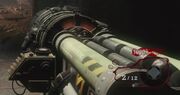 The Thunder Gun is a weapon first introduced in Call of Duty: Black Ops. It is a very powerful weapon, and is obtained in zombies only by use of the Mystery Box. It can also be obtained in the Numbers mission of the campaign by destroying all six canisters of Nova 6 gas at the beginning, then going to a closed in area with a tape recorder, and holding the action button to obtain the tape (There will be no indicator that you've obtained it).Once you get the tape, bring it to the area filled with weapons you discover after you jump onto the balcony, behind the refrigerator. There will be another tape recorder where you will hold the action button, and it will close. You then look above it, and hold the action button. You will then have it. The Thunder Gun has a miniscule 2 round magazine, but it is more than enough to deal damage. It is a one hit kill to all enemies in the campaign, and knocks them back a considerable distance. It is reloaded by turning the drum to the side, and replacing it with a new one which is slided into place. It is an area of effect weapon. It is a one hit kill on all zombies, until you reach wave 25, past which it will only blow them backwards, but still do a considerable amount of damage. It contains a very small amount of ammunition though, and should be used accordingly. It is a Wondergun like the Ray Gun.
Ad blocker interference detected!
Wikia is a free-to-use site that makes money from advertising. We have a modified experience for viewers using ad blockers

Wikia is not accessible if you've made further modifications. Remove the custom ad blocker rule(s) and the page will load as expected.