GKNOVA6
functions as a promoter for
Call of Duty: Black Ops
. The flash site consists of an old television with five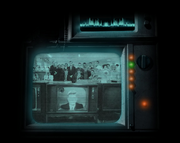 vertical lights (for each "channel") and as of May 23, 2010, six are active. The site contains many references to the Cold War and nuclear weapons such as a photograph of John F. Kennedy delivering a speech about the Cuban Missile Crisis. Judging by the name, it is likely related to the chemical Nova-6.
Ad blocker interference detected!
Wikia is a free-to-use site that makes money from advertising. We have a modified experience for viewers using ad blockers

Wikia is not accessible if you've made further modifications. Remove the custom ad blocker rule(s) and the page will load as expected.